The Trusted Name In Roofing For Over 50 Years.
Why Choose Anderson Roofing for Torch Down Services
Looking for top-notch torch down roofing services in Issaquah, the Greater Seattle Area, or the Eastside? Look no further. Anderson Roofing sets the industry standard for quality and expertise. Here's what sets us apart:
Experienced Professionals
Our seasoned roofing specialists bring years of experience and training in the latest torch down techniques. Whether you're in Seattle or the Eastside, you're getting experts who understand local climate conditions.
We select only the best materials from reputable manufacturers for our torch down roofing projects. You'll end up with a roof that stands the test of time and adds value to your property.
Customer satisfaction isn't just a goal; it's our commitment. From your first consultation to the project's completion, we put your needs first. The result? A significant portion of our business comes from referrals and repeat customers.
Don't settle for less when it comes to your roof. Choose Anderson Roofing for a durable, long-lasting, and cost-effective torch down roofing solution. Contact us now for a free estimate.
Why Choose Torch Down Roofing
Need a durable, long-lasting roof? Torch down roofing sets the gold standard, especially for flat and commercial roofs. As your go-to roofing specialists in Issaquah, serving the Eastside and the Greater Seattle Area, we offer key reasons why you should consider torch down roofing.
Get lasting peace of mind with a torch down roof. These roofs can endure up to 20 years or even more when maintained properly. In Seattle's rain-soaked climate, a durable roof isn't a luxury—it's essential.
Trust in the exceptional durability of torch down roofing. Designed to resist leaks, cracks, and extreme weather like heavy rainfall and powerful winds, it's the optimal choice for businesses throughout the Eastside, including Bellevue and Redmond.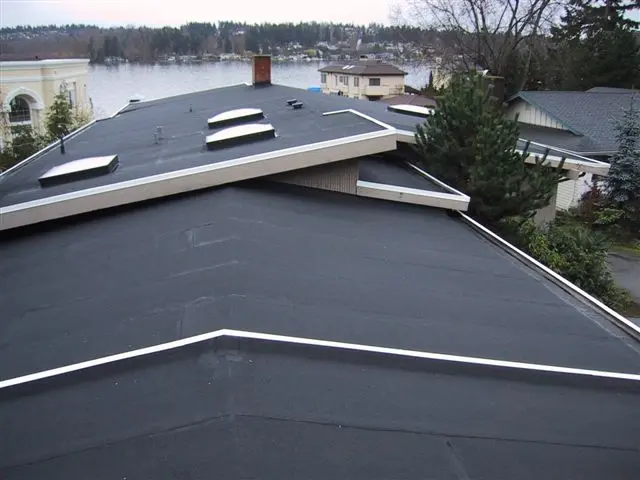 Shield your property from water damage. Torch down roofs excel in repelling water, significantly reducing leak risks. Their seamless application enhances moisture protection, an important factor in the wet Pacific Northwest.
Choose torch down roofing for its long-term cost benefits. While upfront costs may be higher, the roof's durability and low maintenance contribute to a lower overall cost of ownership.
So, if you're in Issaquah, Bellevue, Redmond, or anywhere else in the Greater Seattle Area, contact us today to discuss how a torch down roof can meet your needs.
Torch Down Roofing Projects
If your home has a flat or low-sloped roof, it needs to be water-tight to keep out the northwest rains. A Torch Down application is one of the most popular and cost-effective methods of keeping your home safe and dry. We use a 30-lb. fiberglass base sheet and top-quality Torch Down membrane to ensure your home is water-tight.
The Torch Down granulated membrane comes in a range of colors. An aluminum coating can be applied to a smooth Torch Down roof to keep your home cooler during the summer months. The coating also slows down the aging process by blocking UV rays.
Applications of Torch Down Roofing
Torch down roofing is a versatile option suitable for various structures. Based in Issaquah and serving the Eastside and Greater Seattle Area, here are common applications where our torch down roofing services excel:
Commercial Buildings: Ideal for flat or low-slope roofs commonly found in retail centers, offices, and hotels.

Warehouses: Offers durability and water resistance, essential for protecting goods and infrastructure.

Garages: An excellent choice for multi-level or small garages, offering superior water-resistant qualities.

Other Structures: Suitable for residential flat roofs and agricultural buildings with low slopes.
Frequently Asked Questions About Torch Down Roofing
What is Torch Down Roofing?
Torch Down Roofing is a type of roofing material designed for flat or low-sloping roofs, using heat to melt the material and bond it to the roof surface.
Is Torch Down Roofing suitable for the weather conditions in the Greater Seattle Area?
Yes, Torch Down Roofing offers excellent water and moisture resistance, making it ideal for the wet climate of the Greater Seattle Area.
How long does Torch Down Roofing last?
With proper maintenance, Torch Down Roofing can last up to 20 years or more.
Is Torch Down Roofing energy-efficient?
Yes, the material reflects sunlight, helping to keep buildings cooler in the summer and thereby reducing energy costs.
What types of buildings can benefit from Torch Down Roofing?
Commercial properties, warehouses, residential flat roofs, and garages are all suitable for Torch Down Roofing.
Is Torch Down Roofing safe?
When installed by professionals, Torch Down Roofing is a safe and durable roofing option.
Do you provide Torch Down Roofing services in Bellevue and Redmond as well?
Yes, we serve the entire Eastside, including Issaquah, Bellevue, and Redmond, in addition to the Greater Seattle Area.
What is the maintenance like for Torch Down Roofing?
Torch Down Roofs are relatively low maintenance but should still be inspected periodically for potential issues.
How cost-effective is Torch Down Roofing?
While the initial cost may be higher than some other roofing types, its durability and low maintenance often make it more cost-effective in the long run.
How can I get a quote for Torch Down Roofing?
You can contact Anderson Roofing for a free consultation to discuss your specific needs and get an estimate.
Roof Estimate
Get An Estimate